International Dance Event Detail
6th Universal Peace Dance Camp Chile 2020
Event Description

Friday 4 to Wednesday 9 December 2020
Punto Zero, Aconcagua Valley, Chile
Day by day we greet the precious possibility of choosing
to remain in the loving and constant vibration of love.
We are invited, called to make this desire our daily practice, our work: to exercise our free will inspired, guided by the wings of love, thus sustaining the balance, presence and harmony that allow us to discover and love the beauty in everything we do and are.

We are happy to be celebrating our 6th Universal Peace Dance Camp and with it to celebrate and thank the dancing Family that we have found and of which we are a part. We already know who we are, what we do, we recognize ourselves, we love and accept ourselves, we have experienced love in its many forms, and that is why this 6th camp is dedicated to love in all its manifestations, because we long to continue polishing our winged heart, transforming the mirror of our soul to be every day more free and happy in our journey towards the Beloved.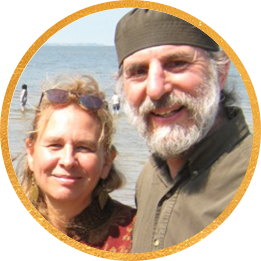 With our beloved international guests
Murshida Halima &
Murshid Abraham Sussman
They are high-level master mentors in the lineages of Ruhaniat Sufi and the Dances of Universal Peace, inspired musicians and experienced guides on the path of the awakened heart. They share the joy and clarity that comes from their own practice and tap into a depth that comes from a lifetime of integrating spiritual practice, psychological exploration and love of the natural world. Traveling and teaching internationally, returning home to Massachusetts to their local Ruhaniat Center, SAMA, Halima met Murshid SAM at a Sufi Dance meeting in Marin County, California. This meeting changed her life. Abraham is a direct disciple of Murshid Sam.
Who can attend?
All those who want to enter the sacred space of the heart, especially recommended for leaders in training, lovers of circular dances, biodancers, workshop leaders, facilitators of circles of women and men, rainbow family, path of the middle, doctors, architects, engineers, journalists, psychologists ... and anyone who wants to live a different transformative experience, leave their routine, know another way of looking at life.

You are all welcome!
no previous experience is necessary.
When?
The arrival will be on Friday December 4 from 10:00 hrs onwards. We will all have lunch together and during the afternoon we will meet for the first circle of dances. The retreat will be on
Wednesnay 9 December at 13:00 hrs approx(this day will be served only breakfast)

The value of the event contemplates:

Accommodation according to choice
Access to all Punto Zero facilities (Natural pool)
Workshops
3 meals a day:
Breakfast, lunch and dinner

It does NOT contemplate the transfer to the place.
Where?
At Punto Zero Foundation
In Chile, V region, in the Aconcagua Valley. It is 103 kilometers north of Santiago in the commune of Putaendo, province of San Felipe. The place is located in the foothills of the Andes in an environment of nature, open spaces and clear skies.

Punto Zero Webpage
See Google Map
Check here the values of the camp
Facebook Event
More information on our networks
Contact
+56 99 7890161
Roxana(Ingles)
+569 516 816 26
Paloma(Ingles)
Date
Friday 4 to Wednesday 9 December 2020
Web Site
http://danzasdepazchile.cl
Contact
Roxana Campos Araya

+56 99 7890161
danzaspazchile@gmail.com